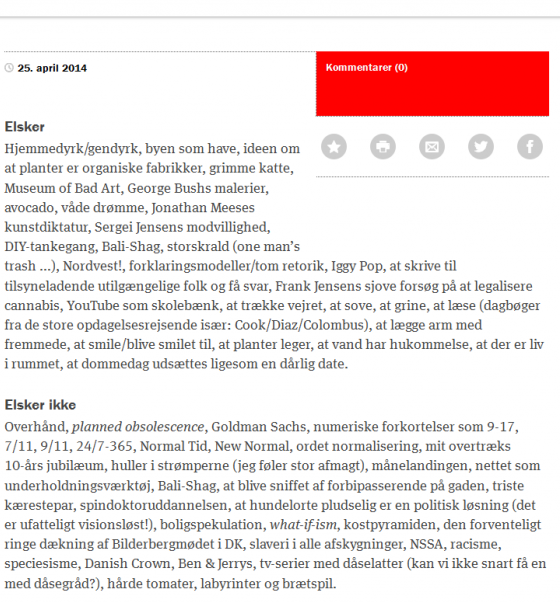 ---
English
Jonas Suchanek (b. 1981), originally from Olomouc, Czechoslovakia, is a writer based in Denmark, where he has published three novels with Danish publishing house Gyldendal.
Do danska (To Denmark), published in 2014, is a story about a small Czechoslovakian family, who emigrate to Denmark in the late 1980's, just before the Velvet Revolution – and their ongoing struggle with fitting into Danish society and finding their new identity. The novel has been described as engaging, gripping, charming, humoristic and minimalistic in national newspaper reviews. – Do danska, Gyldendal, 2014, 177 pages.
Vi er BOHEMER (We are BOHEMIANS), published in 2016, is a short novel about moving to Copenhagen, the capital of Denmark, while being young and broke – and there finding yourself, your friends and your luck. The national press has praised the novel for being original, tragi-comic, engaging and relevant to the ongoing problems of the current housing situation in Copenhagen. – Vi er BOHEMER, Gyldendal, 2016, 103 pages.
Hvem er den mand / Hvad laver han her?" (Who is that man / what is he doing here), published in 2017, is a hybrid novel (epistolary / reportage) with themes of stagnation, identity, family and friendship. – Hvem er den mand / Hvad laver han her, Gyldendal, 2017, 148 pages.
Jonas Suchanek was nominated for the Debutant Prize, 2014, by BogForum, the Danish expo for domestic and foreign literature. In 2016, 2017 and 2018, he has been granted 75,000 DKK by the Danish Arts Foundation as well as being granted a work residency in Berlin by Aarhus Center for Visual Art, Performing Arts Platform and Aarhus Centre of Literature.
---
Czech
Excerpt from Do danska (pages 43-50) – translated by Daniela Vrbová in 2016: Do danska – str 43-50
Interview with Daniela Vrbová @ Český rozhlas Vltava (Czech National Broadcast) about my writing and my third manuscript. Broadcasted on September 10th 2016.
---
German
Short story "Hovedets Holdbarhed" (Durability of the head) from 2009 – translated by Dorian Bøyesen, Boyesen Verlag, 2015: Der Haltbarkeit des Kopfes